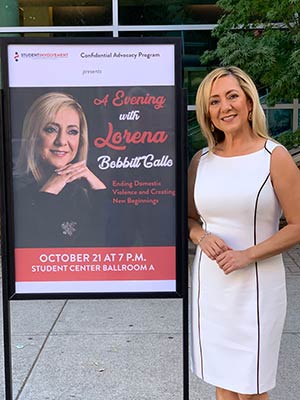 "Silence is not an option because silence keeps victims trapped. Survivors need to get support in order to escape, and to be heard in order to heal. To end the cycle of abuse, we must find the courage to break our own silence."
In 1993, after a desperate act of self-defense, Lorena Gallo Bobbitt found herself at the center of one of the decade's most lurid news spectacles. Sexism and sensationalism drowned out the real story behind the headlines: one of a shy young immigrant woman who endured years of horrific domestic violence and whose escape triggered two criminal trials and unrelenting public scrutiny.
Through this traumatic experience, Lorena has transformed herself into a champion for survivors of domestic and sexual violence. Since the 1990s, she has worked as a facilitator and advocate to support survivors in the Washington, D.C. region. Dismayed by the continued prevalence of domestic violence decades after she escaped her own abusive marriage, Lorena made the courageous decision to return to the public eye. Lorena has reclaimed her well-known but often misunderstood story of trauma, survival, and resilience to give voice to survivors who struggle in silence.
As the founder of the Lorena Gallo Foundation, Lorena draws on her own story and her experience on the frontlines of the domestic violence crisis to educate young people, first responders, professionals, and the public about their role in recognizing and preventing abuse. She has given keynote presentations at events for California State University San Bernardino, Lincoln Memorial University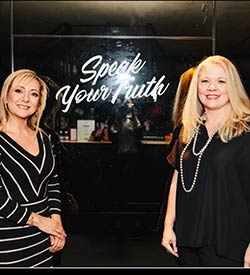 Duncan School of Law, Sonoma State University, Casa Myrna, and the Texas Council on Family Violence and led workshops for the Georgetown University Gender Justice Initiative and the Latino Victory Fund. She has also told her story in print in the New York Times, Vanity Fair, Time, Huffington Post, Rolling Stone, and Elle and been featured on air on Good Morning America, The Oprah Winfrey Show, Today, The View, Inside Edition, Red Table Talk, FOX News, and Univision.
In 2019, she was featured in Lorena (dir. Josh Rofé, exec. prod. Jordan Peele), the powerful docuseries from Amazon Prime Video. After premiering at the Sundance Film Festival, the series earned critical acclaim and an IDA Award nomination for not only allowing Lorena to tell her story in her own voice but also for exploring how the media's obsession with scandal prevented the national reckoning about domestic violence that she now seeks to bring about.
On Memorial Day, May 25, 2020, Lifetime will air I Was Lorena Bobbit, the first authorized fictional retelling of Lorena's story. The film, for which Lorena served as both narrator and executive producer, will air alongside a PSA for the National Coalition Against Domestic Violence featuring the actors and Lorena herself.
Since her own escape from domestic violence, Lorena has dedicated her life to inspiring survivors to discover their own resilience and shining a light on the actions we can all take to help end the trauma of abuse. With her message that silence is not an option, Lorena has refused to be defined by the abuse she experienced.
Lorena's life story is proof that it's possible not only to survive abuse but to thrive and rebuild a joyful, meaningful life on your own terms–even when it seems everyone thinks they can write your story for you.
Lorena is available for speaking engagements to tell her inspiring story of overcoming trauma to reclaim her own voice as a powerful advocate for survivors.